Biennial Scottish Festival in Montmartre


Every two years the Scotland Festival takes place in Montmartre
In the first week of February or March, the Butte Montmartre comes alive with the rhythm of the bagpipes and men in kilts are not a rare sight …
The festival is also a good opportunity to enjoy some good whiskey in the bars of Montmartre and listen to the sound of bagpipes.
To see more pictures
Click here
To learn more about Scotland in Montmartre, please have a look at the official website:
click here (French)
Japan in Montmartre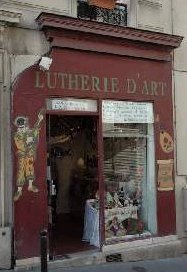 In Montmartre, there is an association devoted to the promotion of Japanese culture called
Manekino
, which organizes cultural events, Japanese anime festivals, and offers courses in Japanese calligraphy, origami (paper folding), Shiatsu workshops (revitalization of the body) and Japanese home cooking.
The association also has an adorable shop in the heart of Montmartre (which used to be a violin-maker's shop and still retains the original façade), where Japanese handicrafts are now sold.
Address : 1 bis, rue Garreau 75018 PARIS (Tube station : Abbesses)
To register for a course or for more information, email info @ # # bonjourparis.jp (remove "##", these were added to avoid spam).
Also visit the site of the association.
Click here (French and Japanese)
.