Recommended walks on the Montmartre hill

A route that takes you through the cultural areas around Montmartre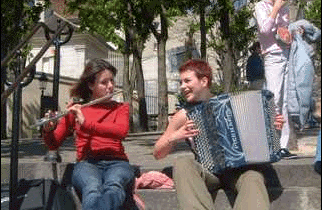 Set out from Place des Abbesses. If it's sunny, you'll probably see buskers here. Go west along rue des Abbesses.
At the intersection between rue des Abbesses and rue Ravignan, turn right and climb courageously uphill.
Once you've reached Place Emile Goudeau, you are likely to see more street musicians, jugglers, and sometimes even someone playing the organ Pear. (see photo!) If you don't see any street performers, why not visit the showcase at the Bateau Lavoir, the painting workshop where Picasso completed "les Demoiselles d'Avignon".
Continuing your journey : go up Rue d'Orchampta and turn left. At the end of the road you will discover a marble plaque marking the former house of the singer Dalida: "Her friends of Montmartre will never forget her. "
Go straight past her house into a very narrow street, where you will discover the fabulous ...
Moulin du Radet
(One of two nineteenth-century mills remaining in the area)
Take rue Girardon (perpendicular to Rue Lepic) and you arrive at Place Marcel Aymé where you can't fail to see a strange figure emerging from the wall (see photo). Conceived by Jean Marais, this relief pays homage to the Passe-muraille written by Marcel Aymé. If you continue down rue Girardon, you will happen upon Place Dalida and a bust of this popular singer.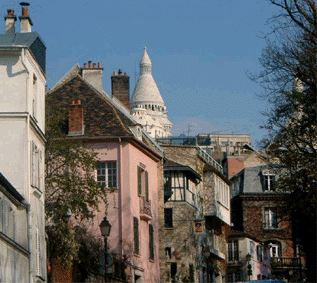 On your left, admire the Pink House at the intersection of rue des Saules. This house inspired a famous painting by
Maurice Utrillo
.Go down along rue des Saules and discover the vineyards of Montmartre. Every October, there is a harvest festival, which is hosted by a celebrity.
This is also an excellent opportunity to witness the yearly parade of disguised vintners who distribute free glasses of wine to the crowd.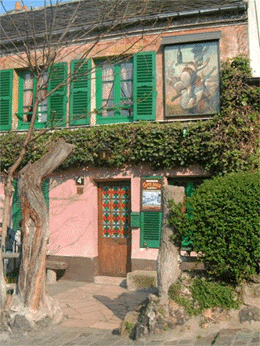 In front of the vineyards at the corner of rue Saint Vincent and rue des Saules, discover the famous cabaret, the Lapin Agile, where certain writers, poets, musicians, actors, painters, and sculptors, who all eventually became famous, once stood side by side.
These "unknown" artists were none other than Picasso, Utrillo, Braque, Modigliani, Guillaume Apollinaire, Max Jacob, Charles Dullin and many others ...
The cabaret is still open to the public and a good place to go for a night out.(
click here for more information
).
Go back up rue des Saules and at the top of the street, turn left into Place du Tertre, which teems with painters.
Warning: this is a very touristy area!
The Amélie Poulain trip
You can also see Amelie's route
by clicking here
.