How to get to Montmartre

Would you like to visit Montmartre with a local guide and have an unforgettable experience? This is possible with a private tour at a very reasonable price, write to us at visitemontmartre@gmail.com and specify the date of the tour and the number of participants, we will then offer you an unbeatable price with a guide who lives in Montmartre.
Several subway stations take you to the Montmartre Hill.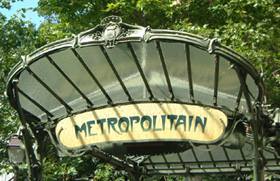 Abbesses station (line 12)
Exit at Abbesses (line 12 Porte de la Chapelle - Mairie d'Issy): you come out at the place des Abbesses in Montmartre.
A great place to enjoy a gourmet meal because this area boasts many good restaurants.
If you take line 12 home, think about using the stairs to get down to the platform, you will see very nice photographs on the wall!
Anvers station (line 2)
Exit at Anvers (line 2 Porte Dauphine-Nation): From the metro station, go along rue Steinkerque and you will arrive directly at the foot of the Sacré Coeur Basilica. You can take the funicular if you are tired, it would make the climb easier.
This way is the best known and you won't be able to escape the crowd here!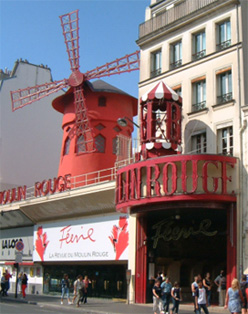 Blanche station (line 2)
Climbing the stairs out of Blanche (line 2 Porte Dauphine-Nation), you will see the Moulin Rouge (see photo).
Go up rue Lepic, and you are already on the Montmartre Hill.
Lamarck Caulaincourt station (the other side of the Montmartre hill)
Exit at Lamarck Caulaincourt (line 12 Porte de la Chapelle - Mairie d'Issy): The station will take you onto the "dark side" of the hill.
Le Montmartrobus
A pleasant means of transportation, an electrical bus called the "Montmartrobus". You can find the map on the RATP website:
click here