Going out at night in Montmartre: cabaret and Music Hall

In addition to the
theaters
, you can find many sources of entertainment such as
cabaret
and
music halls
at the foot of the Montmartre hill, and also on the hill.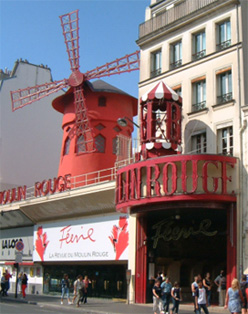 cabaret
:
Moulin rouge (see photo)
Spend a terrific evening at the Moulin Rouge, where the champagne flows freely!
There, you will witness the "french cancan"!
Discover this cabaret, which inspired the famous painter Toulouse-Lautrec
Address: 90 boulevard de Clichy 75018 PARIS
Website:
click here
The
history of the Moulin Rouge:
It was opened on October 5, 1889 by Charles Zidler.
At that time, everyone in Paris wanted to be seen there.
Red Wings above the entrance are the work of Adolphe Willette, a famous decorator.
Among its most famous stars, The Moulin Rouge welcomed La Goulue whose photographs are still available at the Musée de Montmartre.
Maurice Chevalier and Tino Rossi found fame thanks to the Moulin Rouge.
Lautrec was the "painter" and columnist of the Moulin. You can see some of his posters at the
Museum of Montmartre
Le
Lapin Agile
A totally unique place : come sing old songs of Montmartre and other folk songs in a goguenarde atmosphere! Address: 22, rue des Saulnes 75018
Website :
click here
Chez Michou
For a mad evening, visit the diner "Chez Michou" Website :
click here
concert Halls
:
Elysée Montmartre
72, bd Rochechouart 75018 Paris (tube station : Anvers, line 2)
A classic Parisian venue, people of all generations gather at the famous ball of the Elysée Montmartre!
Website :
click here
La Cigale
120 bd Rochechouart 75018 Paris tel : 01 49 25 81 75
La Cigale hosts French and international rock concerts.
For example, it hosted Stomp, a group which dances and plays music using pots and kitchen and household utensils.
This concert hall is a good place to go for a night out.
Website :
click here
Le Divan du monde
75, rue des Martyrs 01 42 52 02 46
very nice Concert hall with a wide variety of music styles
Website:
click here